Mar 23, 2009 Author: Wendy | Filed under:
Game News
I have to get up at 5am to head to airport for the trip to GDC, the Game Developer's Conference in California. While I'm not looking forward to the actual flight out there, hate flying, I'm sure the trip itself will be a fun time. I'll be posting updates to twitter while I'm out there, so if you follow along I'll be posting about what I see.
Mar 23, 2009 Author: Wendy | Filed under:
Coding
Today my latest project went live, Cat Calls. An adorable little application that will both annoy your pets, entertain your friends and look cute doing it.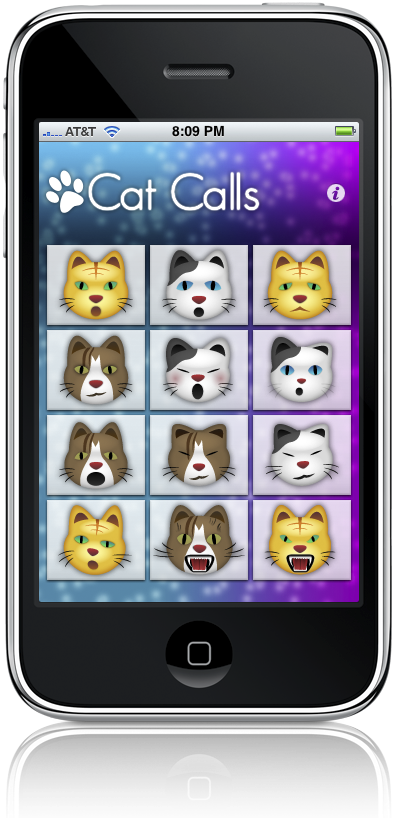 You can find more information at my company website.
Mar 13, 2009 Author: Wendy | Filed under:
Coding
I'm moving all my new handheld development away from the iPhone. The app store is too flooded with junk applications causing consumers to lose any confidence in the quality of software they find there. No matter how much time and effort you spend, the drive for a lower price point makes development difficult to justify. There are also instances of some "developers" flooding certain app store categories with fifty of the same application. This is what happens when you get that gold rush mentality.
Microsoft announced their application store the other day and so far I like what I'm seeing. Microsoft restricts the number of applications a developer can release in a given year with each additional application requireing more of a financial investment. I'm hoping this will eliminate the overpopulation of poor quality seen on the Apple app store.
Mar 10, 2009 Author: Wendy | Filed under:
Coding
I've been spending this evening getting multithreading asset loading working. I've converted a lot of my iPhone code to C++ and keeping certain things as Objective-C objects only when I absolutely have to. This of course came back to bite me when trying to spawn off loading in a separate thread. Since the NSThread code expects a class object inherited from NSObject(id), it crashed everytime I passed it one of my C++ objects. I finally realized this and created a class wrapper whose only job is to be called by the thread and initiate the loading of the regular objects. Sure, it's another layer, but now things are playing nice with one another and I can get on to the actual fun bits of the code.